Turkey Bacon Avocado Sandwich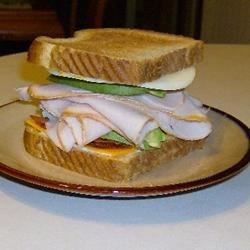 Prep Time:

15 Minutes

Total Time:

15 Minutes

Yield:

1 sandwich
A light and healthy sandwich on those days when you want something yummy, yet not really heavy. Perfect in the summertime with fresh garden-ripe tomatoes!
Ingredients
1 tablespoon reduced-fat mayonnaise
2 slices bread, toasted
1 slice provolone cheese
4 thin slices deli turkey breast
4 slices precooked bacon, microwaved according to package directions
1/2 avocado - peeled, pitted, and thinly sliced
1 slice ripe tomato
1 leaf lettuce
Directions
Spread mayonnaise on one side of both slices of toasted bread. Top a bread slice with provolone cheese, turkey, bacon, avocado, tomato, and lettuce. Place the remaining bread slice on top, slice in half, and serve.
Nutritional Information
Calories: 578 cal
Total Fat: 34.9 g
Saturated Fat: 11.1 g
Cholesterol: 67 mg
Sodium: 1762 mg
Carbohydrates: 37.9 g
Fiber: 8.3 g
Protein: 30.8 g
Sugars: 3.9 g
View More
Potassium: 922 mg
Calcium: 317 mg
Iron: 4 mg
Magnesium: 78 mg
Folate: 147 mcg
Niacin Equivalents: 11 mg
Thiamin: < 1 mg
Vitamin A - Iu: 670 iu
Vitamin B6: < 1 mg
Vitamin C: 14 mg
Calories From Fat: 314 kcal
Percent Of Calories From Carbs: 25
Percent Of Calories From Fat: 53
Percent Of Calories From Protein: 20
Percent Of Calories From Saturated Fat: 16
videos & recipes provided by: