The Best Bean and Ham Soup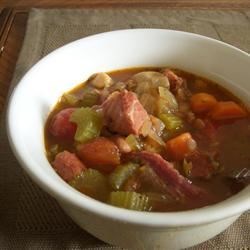 Prep Time:

25 Minutes

Total Time:

10 Hours 25 Minutes

Yield:

12 servings
I make this hearty soup using the ham bone from our Easter spiral ham. I serve it with corn muffins and fresh fruit. It makes a huge pot of soup, so invite some friends or just freeze several portions for later use. Remember to soak the beans the night before you make the soup.
Ingredients
1 (20 ounce) package 15 bean mixture, soaked overnight
1 ham bone
2 1/2 cups cubed ham
1 large onion, chopped
3 stalks celery, chopped
5 large carrots, chopped
1 (14.5 ounce) can diced tomatoes, with liquid
1 (12 fluid ounce) can low-sodium vegetable juice
3 cups vegetable broth
2 tablespoons Worcestershire sauce
2 tablespoons Dijon mustard
1 tablespoon chili powder
3 bay leaves
1 teaspoon ground black pepper
1 tablespoon dried parsley
3 tablespoons lemon juice
7 cups low fat, low sodium chicken broth
1 teaspoon kosher salt
Directions
Place the soaked beans into a large pot and fill with enough water to cover by about 1 inch. Bring to a boil, then simmer over low for 30 minutes. Drain. Add the ham bone, ham, onion, celery, carrots, tomatoes, vegetable juice, and vegetable broth. Season with Worcestershire sauce, Dijon mustard, chili powder, bay leaves, pepper, parsley and lemon juice. Pour in enough of the chicken broth to cover the ingredients.
Simmer over low heat, stirring occasionally, for about 8 hours. Add more chicken broth as needed throughout the day. Remove the ham bone and season with salt if needed. Continue to simmer for a couple more hours. Remove bay leaves before serving.
Nutritional Information
Calories: 260 cal
Total Fat: 3.6 g
Saturated Fat: 0.9 g
Cholesterol: 14 mg
Sodium: 1105 mg
Carbohydrates: 37.9 g
Fiber: 14.8 g
Protein: 17.3 g
Sugars: 6.5 g
View More
Potassium: 1143 mg
Calcium: 54 mg
Iron: 2 mg
Magnesium: 14 mg
Folate: 14 mcg
Niacin Equivalents: 3 mg
Thiamin: < 1 mg
Vitamin A - Iu: 6053 iu
Vitamin B6: < 1 mg
Vitamin C: 27 mg
Calories From Fat: 32 kcal
Percent Of Calories From Carbs: 59
Percent Of Calories From Fat: 12
Percent Of Calories From Protein: 27
Percent Of Calories From Saturated Fat: 3
videos & recipes provided by: