Sweet Potato Pecan Pie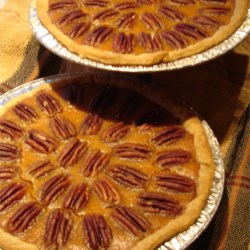 This is the perfect Thanksgiving pie. Sweet potatoes and pecans make such a wonderful combination. And everyone know it wouldn't be Thanksgiving without pie.
Ingredients
1 (9 inch) unbaked pie crust
2 tablespoons unsalted butter, melted
1 cup cooked and mashed sweet potatoes
2 eggs, beaten
3/4 cup light brown sugar
1/2 teaspoon ground ginger
1/2 teaspoon ground cinnamon
1/2 teaspoon freshly grated nutmeg
1 teaspoon vanilla extract
1/2 teaspoon salt
1/2 cup dark corn syrup
1 cup evaporated milk
1 1/2 cups chopped pecans
2 cups heavy whipping cream
3 tablespoons confectioners' sugar
1/4 cup hazelnut liqueur
1/4 cup pecan halves
Directions
Preheat oven to 375 degrees F (190 degrees C).
Prepare dough for one 9 inch pie. Refrigerate until ready to bake.
Blend together the butter, sweet potatoes, eggs, brown sugar, ginger, cinnamon, nutmeg, vanilla, salt, corn syrup and evaporated milk. Pour filling into crust and sprinkle with chopped pecans.
Bake for 40 to 45 minutes, or until inserted knife comes out clean. Set aside to cool.
Beat together whipping cream, sugar and liqueur until soft peaks form. Top pie with whipped cream and pecan halves.
Nutritional Information
Calories: 588 cal
Total Fat: 36.2 g
Saturated Fat: 18 g
Cholesterol: 142 mg
Sodium: 350 mg
Carbohydrates: 60.7 g
Fiber: 2.1 g
Protein: 5.1 g
Sugars: 33.7 g
View More
Potassium: 250 mg
Calcium: 83 mg
Iron: 1 mg
Magnesium: 24 mg
Folate: 28 mcg
Niacin Equivalents: 2 mg
Thiamin: < 1 mg
Vitamin A - Iu: 5831 iu
Vitamin B6: < 1 mg
Vitamin C: 5 mg
Calories From Fat: 326 kcal
Percent Of Calories From Carbs: 40
Percent Of Calories From Fat: 53
Percent Of Calories From Protein: 3
Percent Of Calories From Saturated Fat: 26
videos & recipes provided by: