Spicy Indian Chicken and Mango Curry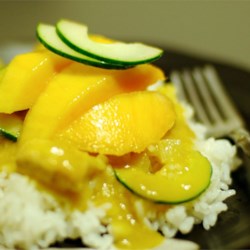 Prep Time:

25 Minutes

Total Time:

35 Minutes

Yield:

4 servings
Low-Sodium
I love Indian food, this recipe developed after falling in love with the dish at a small family owned Indian restaurant near my home. After tweaking a few things, I think I have come up with a great copy-cat version. The curry paste can easily be substituted with the mild version for those with more sensitive palates. Serve over Basmati rice. I hope it meets your liking. Enjoy!
Ingredients
2 medium mangoes, peeled and sliced, divided
1 (10 ounce) can coconut milk
4 teaspoons vegetable oil
4 teaspoons spicy curry paste
14 ounces skinless, boneless chicken breast halves - cut into cubes
4 medium shallots, sliced
1 large English cucumber, seeded and sliced
Directions
Place half of the mango slices into the bowl of a blender with the coconut milk. Blend until smooth and reserve for later.
Heat the oil in a large pot over medium-high heat. Stir in the curry paste, and cook until fragrant, about 1 minute. Add the chicken and shallot; cook until the chicken is done and the shallots have softened, about 5 minutes. Pour in the mango puree, and cook until heated through. To serve, stir in the remaining mango slices and cucumber.
Nutritional Information
Calories: 398 cal
Total Fat: 20.4 g
Saturated Fat: 13.7 g
Cholesterol: 58 mg
Sodium: 179 mg
Carbohydrates: 31.1 g
Fiber: 3.3 g
Protein: 26.5 g
Sugars: 18.4 g
View More
Potassium: 831 mg
Calcium: 63 mg
Iron: 4 mg
Magnesium: 87 mg
Folate: 50 mcg
Niacin Equivalents: 17 mg
Thiamin: < 1 mg
Vitamin A - Iu: 1481 iu
Vitamin B6: < 1 mg
Vitamin C: 36 mg
Calories From Fat: 183 kcal
Percent Of Calories From Carbs: 30
Percent Of Calories From Fat: 44
Percent Of Calories From Protein: 25
Percent Of Calories From Saturated Fat: 29
videos & recipes provided by: