Snickerdoodles II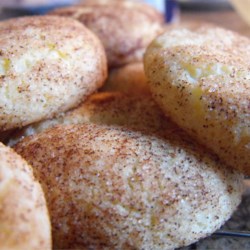 Prep Time:

15 Minutes

Total Time:

25 Minutes

Yield:

5 dozen
Dairy-Free
Here's the recipe that I got from my mother.
Ingredients
1 cup shortening
1 1/2 cups white sugar
2 eggs
2 3/4 cups sifted all-purpose flour
1 teaspoon baking soda
2 teaspoons cream of tartar
1/4 teaspoon salt
2 tablespoons white sugar
2 teaspoons ground cinnamon
Directions
Preheat oven to 400 degrees F (200 degrees C).
In a large bowl, mix together the shortening and 1 1/2 cups of white sugar until smooth. Stir in the eggs one at a time, blending well after each. Combine the flour, baking soda, cream of tartar and salt; stir into the batter until blended.
Roll the dough into balls the size of small walnuts. Roll in a mixture of 2 tablespoons sugar and 2 teaspoons cinnamon. Place 2 inches apart on an ungreased cookie sheet.
Bake in the preheated oven for 8 to 10 minutes or until lightly browned, but still soft.
Nutritional Information
Calories: 150 cal
Total Fat: 7.3 g
Saturated Fat: 1.8 g
Cholesterol: 14 mg
Sodium: 66 mg
Carbohydrates: 19.8 g
Fiber: 0.4 g
Protein: 1.6 g
Sugars: 10.9 g
View More
Potassium: 51 mg
Calcium: 5 mg
Iron: < 1 mg
Magnesium: 3 mg
Folate: 23 mcg
Niacin Equivalents: 1 mg
Thiamin: < 1 mg
Vitamin A - Iu: 17 iu
Vitamin B6: < 1 mg
Vitamin C: < 1 mg
Calories From Fat: 66 kcal
Percent Of Calories From Carbs: 52
Percent Of Calories From Fat: 43
Percent Of Calories From Protein: 4
Percent Of Calories From Saturated Fat: 10
videos & recipes provided by: