Pumpkin Roll I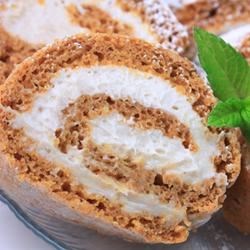 Prep Time:

35 Minutes

Total Time:

1 Day 1 Hour 15 Minutes

Yield:

1 pumpkin roll
This is a great dessert, especially nice for holidays, but it can be served anytime of the year. The resulting pumpkin roll slices will impress your guests. The pumpkin roll is not as hard to make as it sounds. Be sure and use plain canned pumpkin, and not pumpkin pie mix.
Ingredients
3 eggs
1 cup white sugar
2/3 cup solid pack pumpkin puree
1 teaspoon lemon juice
3/4 cup all-purpose flour
1 teaspoon baking powder
1/2 teaspoon salt
2 teaspoons ground cinnamon
1 teaspoon ground ginger
1 cup chopped pecans
1/2 cup confectioners' sugar for dusting
1 (8 ounce) package cream cheese
4 tablespoons butter
1 cup confectioners' sugar
1/2 teaspoon vanilla extract
1/4 cup confectioners' sugar for dusting
Directions
Preheat oven to 350 degrees F (175 degrees C). Grease and flour a 10x15 inch jellyroll pan.
In a large bowl, beat eggs and sugar with an electric mixer on high speed for five minutes. Gradually mix in pumpkin and lemon juice. Combine the flour, baking powder, salt, cinnamon, and ginger; stir into the pumpkin mixture. Spread batter evenly into the prepared pan. Sprinkle pecans over the top of the batter.
Bake for 12 to 15 minutes, or until the center springs back when touched. Loosen edges with a knife. Turn out on two dishtowels that have been dusted with confectioners' sugar. Roll up cake using towels, and let cool for about 20 minutes.
In a medium bowl, combine cream cheese, butter, 1 cup confectioners' sugar, and vanilla. Beat until smooth. Unroll pumpkin cake when cool, spread with filling, and roll up. Place pumpkin roll on a long sheet of waxed paper, and dust with confectioners' sugar. Wrap cake in waxed paper, and twist ends of waxed paper like a candy wrapper. Refrigerate overnight. Serve chilled; before slicing, dust with additional confectioners' sugar.
Nutritional Information
Calories: 229 cal
Total Fat: 9.4 g
Saturated Fat: 5.6 g
Cholesterol: 67 mg
Sodium: 217 mg
Carbohydrates: 34.1 g
Fiber: 0.7 g
Protein: 3.2 g
Sugars: 27.8 g
View More
Potassium: 65 mg
Calcium: 44 mg
Iron: < 1 mg
Magnesium: 7 mg
Folate: 20 mcg
Niacin Equivalents: 1 mg
Thiamin: < 1 mg
Vitamin A - Iu: 2040 iu
Vitamin B6: < 1 mg
Vitamin C: < 1 mg
Calories From Fat: 85 kcal
Percent Of Calories From Carbs: 58
Percent Of Calories From Fat: 36
Percent Of Calories From Protein: 5
Percent Of Calories From Saturated Fat: 21
videos & recipes provided by: