Peanut Butter Pie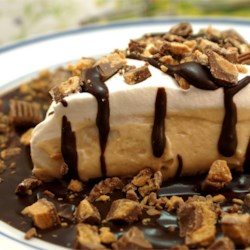 Yield:

1 pie
Vegetarian
Peanut butter refrigerator pie, very easy to make. Originally submitted to ThanksgivingRecipe.com.
Ingredients
1 (9 inch) prepared graham cracker crust
1 (8 ounce) package cream cheese, softened
1/2 cup creamy peanut butter
1/2 cup confectioners' sugar
1 (16 ounce) container frozen whipped topping, thawed
15 miniature chocolate covered peanut butter cups, unwrapped
Directions
Mix the cream cheese, confectioners' sugar and peanut butter together until smooth. Fold in 1/2 of the whipped topping. Spoon the mixture into the graham cracker crust.
Place the remaining whipped topping over the top of the peanut butter mixture and garnish with the peanut butter cups. Chill for at least 2 hours or overnight before serving.
Nutritional Information
Calories: 609 cal
Total Fat: 43.3 g
Saturated Fat: 23 g
Cholesterol: 32 mg
Sodium: 369 mg
Carbohydrates: 49.3 g
Fiber: 1.8 g
Protein: 9.5 g
Sugars: 40.9 g
View More
Potassium: 226 mg
Calcium: 49 mg
Iron: 1 mg
Magnesium: 46 mg
Folate: 30 mcg
Niacin Equivalents: 4 mg
Thiamin: < 1 mg
Vitamin A - Iu: 1098 iu
Vitamin B6: < 1 mg
Vitamin C: < 1 mg
Calories From Fat: 390 kcal
Percent Of Calories From Carbs: 31
Percent Of Calories From Fat: 62
Percent Of Calories From Protein: 6
Percent Of Calories From Saturated Fat: 33
videos & recipes provided by: