Mexican Salad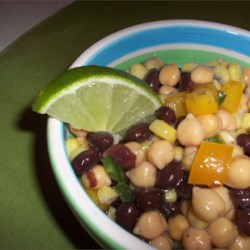 Yield:

6 servings
Vegetarian
This salad could also be served as an appetizer with tortilla chips.
Ingredients
1 (15 ounce) can black beans, rinsed and drained
1 (15 ounce) can garbanzo beans, drained
2 cups frozen corn kernels
1/2 onion, finely diced
1 tablespoon chopped fresh cilantro
2 jalapeno peppers, seeded and minced
1 red bell pepper, diced
1/4 cup olive oil
3 tablespoons fresh lime juice
1 teaspoon ground black pepper
salt to taste
1/2 teaspoon honey
Directions
In a large bowl, combine the black beans, garbanzo beans, corn, onion, cilantro, jalapenos, bell pepper, olive oil, lime juice, pepper, salt and honey. Mix well; refrigerate and allow flavors to blend.
Nutritional Information
Calories: 258 cal
Total Fat: 10.6 g
Saturated Fat: 1.4 g
Cholesterol: 0 mg
Sodium: 358 mg
Carbohydrates: 34.8 g
Fiber: 8 g
Protein: 8.2 g
Sugars: 3.8 g
View More
Potassium: 277 mg
Calcium: 46 mg
Iron: 3 mg
Magnesium: 29 mg
Folate: 65 mcg
Niacin Equivalents: 2 mg
Thiamin: < 1 mg
Vitamin A - Iu: 813 iu
Vitamin B6: < 1 mg
Vitamin C: 36 mg
Calories From Fat: 95 kcal
Percent Of Calories From Carbs: 52
Percent Of Calories From Fat: 35
Percent Of Calories From Protein: 12
Percent Of Calories From Saturated Fat: 4
videos & recipes provided by: