Insalata Caprese II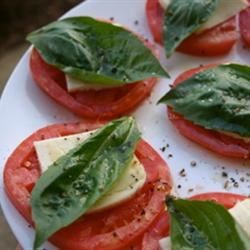 Prep Time:

15 Minutes

Total Time:

15 Minutes

Yield:

6 servings
Because this salad is so simple, fresh, top quality ingredients are important.
Ingredients
4 large ripe tomatoes, sliced 1/4 inch thick
1 pound fresh mozzarella cheese, sliced 1/4 inch thick
1/3 cup fresh basil leaves
3 tablespoons extra virgin olive oil
1/2 teaspoon fine sea salt to taste
1 pinch freshly ground black pepper to taste
Directions
On a large platter, alternate and overlap the tomato slices, mozzarella cheese slices, and basil leaves. Drizzle with olive oil. Season with sea salt and pepper.
Nutritional Information
Calories: 311 cal
Total Fat: 23.9 g
Saturated Fat: 10.9 g
Cholesterol: 60 mg
Sodium: 627 mg
Carbohydrates: 6.6 g
Fiber: 1.5 g
Protein: 17.9 g
Sugars: 4 g
View More
Potassium: 355 mg
Calcium: 399 mg
Iron: 3 mg
Magnesium: 33 mg
Folate: 25 mcg
Niacin Equivalents: 7 mg
Thiamin: < 1 mg
Vitamin A - Iu: 1646 iu
Vitamin B6: < 1 mg
Vitamin C: 16 mg
Calories From Fat: 215 kcal
Percent Of Calories From Carbs: 8
Percent Of Calories From Fat: 68
Percent Of Calories From Protein: 22
Percent Of Calories From Saturated Fat: 31
videos & recipes provided by: