Ham, Basil, and Feta Scrambled Eggs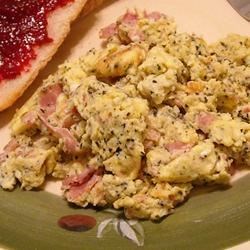 Prep Time:

10 Minutes

Total Time:

15 Minutes

Yield:

2 servings
These delicious and savory scrambled eggs are easy to make.
Ingredients
4 eggs, lightly beaten
1/2 cup diced cooked ham
1/4 cup crumbled feta cheese
1 tablespoon dried basil
1 pinch salt and pepper to taste
1 1/2 teaspoons butter
Directions
Place a skillet over medium heat. Place the lightly beaten eggs in a bowl; stir in the ham, feta cheese, basil, salt, and pepper.
Melt the butter in the skillet. Pour in the egg mixture; cook and stir eggs until firmed and no longer runny, about 5 minutes.
Nutritional Information
Calories: 328 cal
Total Fat: 25 g
Saturated Fat: 11.6 g
Cholesterol: 475 mg
Sodium: 1072 mg
Carbohydrates: 3.4 g
Fiber: 0.9 g
Protein: 22.7 g
Sugars: 2.1 g
View More
Potassium: 320 mg
Calcium: 259 mg
Iron: 3 mg
Magnesium: 32 mg
Folate: 64 mcg
Niacin Equivalents: 7 mg
Thiamin: < 1 mg
Vitamin A - Iu: 925 iu
Vitamin B6: < 1 mg
Vitamin C: 11 mg
Calories From Fat: 225 kcal
Percent Of Calories From Carbs: 4
Percent Of Calories From Fat: 68
Percent Of Calories From Protein: 27
Percent Of Calories From Saturated Fat: 31
videos & recipes provided by: