Grilled Tuna Teriyaki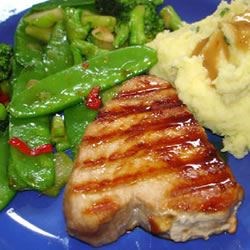 Prep Time:

15 Minutes

Total Time:

57 Minutes

Yield:

4 servings
Dairy-Free
Delicious right off the grill! Take care not to overcook the steaks, as tuna can quickly become quite dry.
Ingredients
2 tablespoons light soy sauce
1 tablespoon Chinese rice wine
1 large clove garlic, minced
1 tablespoon minced fresh ginger root
4 (6 ounce) tuna steaks (about 3/4 inch thick)
1 tablespoon vegetable oil
Directions
In a shallow dish, stir together soy sauce, rice wine, garlic, and ginger. Place tuna in the marinade, and turn to coat. Cover, and refrigerate for at least 30 minutes.
Preheat grill for medium-high heat.
Remove tuna from marinade, and discard remaining liquid. Brush both sides of steaks with oil.
Cook tuna for approximately for 3 to 6 minutes per side, or to desired doneness.
Nutritional Information
Calories: 228 cal
Total Fat: 5.1 g
Saturated Fat: 0.9 g
Cholesterol: 77 mg
Sodium: 329 mg
Carbohydrates: 1.5 g
Fiber: 0.1 g
Protein: 40.4 g
Sugars: 0.2 g
View More
Potassium: 783 mg
Calcium: 32 mg
Iron: 1 mg
Magnesium: 89 mg
Folate: 4 mcg
Niacin Equivalents: 24 mg
Thiamin: < 1 mg
Vitamin A - Iu: 91 iu
Vitamin B6: 1 mg
Vitamin C: 2 mg
Calories From Fat: 46 kcal
Percent Of Calories From Carbs: 2
Percent Of Calories From Fat: 21
Percent Of Calories From Protein: 74
Percent Of Calories From Saturated Fat: 3
videos & recipes provided by: