Eggnog Latte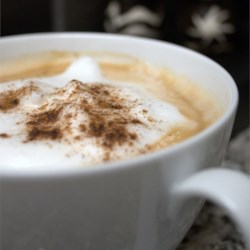 Prep Time:

4 Minutes

Total Time:

5 Minutes

Yield:

1 serving
It wouldn't be Christmas without one (or several!). If you have a home espresso machine, this is a great holiday coffee treat.
Ingredients
1/3 cup 2% milk
2/3 cup eggnog
1 (1.5 fluid ounce) jigger brewed espresso
1 pinch ground nutmeg
Directions
Pour milk and eggnog into a steaming pitcher and heat to between 145 degrees F to 165 degrees F (65 to 70 degrees C) using the steaming wand. Brew the shot of espresso, then add to mug. Pour the steamed milk and eggnog into the mug, using a spoon to hold back the foam. Spoon foam over the top. Sprinkle nutmeg on top of the foam.
Nutritional Information
Calories: 275 cal
Total Fat: 14.7 g
Saturated Fat: 8.8 g
Cholesterol: 106 mg
Sodium: 131 mg
Carbohydrates: 27.2 g
Fiber: 0.2 g
Protein: 9.2 g
Sugars: 18.3 g
View More
Potassium: 454 mg
Calcium: 318 mg
Iron: < 1 mg
Magnesium: 77 mg
Folate: 7 mcg
Niacin Equivalents: 4 mg
Thiamin: < 1 mg
Vitamin A - Iu: 427 iu
Vitamin B6: < 1 mg
Vitamin C: 3 mg
Calories From Fat: 132 kcal
Percent Of Calories From Carbs: 39
Percent Of Calories From Fat: 47
Percent Of Calories From Protein: 13
Percent Of Calories From Saturated Fat: 28
videos & recipes provided by: