Black Bean, Corn, and Tomato Salad with Feta Cheese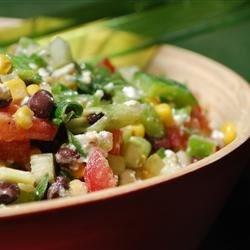 Prep Time:

1 Hour

Total Time:

9 Hours

Yield:

8 cups
Vegetarian
I tasted many salads with similar ingredients, but all seemed very bland, so I developed this myself. It is dressed with a lime vinaigrette and has lots of crunch and flavor with a little jalapeno pop. It's wonderful to make in summer with fresh ingredients from the garden or farmer's market. This is great with BBQ's or for potlucks. My husband likes it best with fish tacos.
Ingredients
1 (14 ounce) can black beans, drained and rinsed
2 fresh tomatoes, chopped
1 large green bell pepper, chopped
1 cup fresh sweet white corn, cut from the cob
1 bunch green onions, sliced
1 jicama, peeled and minced
1 fresh jalapeno pepper, minced
1 (8 ounce) package crumbled feta cheese
1 clove garlic
1 pinch sea salt
1/4 cup fresh lime juice
1 teaspoon Dijon mustard
1/4 teaspoon fresh-ground black pepper
1 cup olive oil
Directions
Place the beans, tomato, bell pepper, corn, onion, jicama, jalapeno pepper, and feta cheese in a large salad bowl.
Mash the garlic and salt together with a mortar and pestle. Whisk together the mashed garlic, lime juice, mustard, and pepper in a small bowl. Add the oil in a slow, steady stream while whisking. Continue whisking until smooth. Drizzle the dressing over the salad and toss to coat. Chill overnight.
Nutritional Information
Calories: 285 cal
Total Fat: 22.4 g
Saturated Fat: 5.4 g
Cholesterol: 17 mg
Sodium: 384 mg
Carbohydrates: 16.8 g
Fiber: 6.3 g
Protein: 6.1 g
Sugars: 3.5 g
View More
Potassium: 353 mg
Calcium: 130 mg
Iron: 2 mg
Magnesium: 34 mg
Folate: 55 mcg
Niacin Equivalents: 2 mg
Thiamin: < 1 mg
Vitamin A - Iu: 469 iu
Vitamin B6: < 1 mg
Vitamin C: 31 mg
Calories From Fat: 202 kcal
Percent Of Calories From Carbs: 22
Percent Of Calories From Fat: 68
Percent Of Calories From Protein: 8
Percent Of Calories From Saturated Fat: 16
videos & recipes provided by: